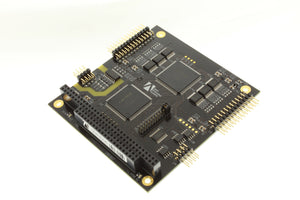 PC/104 COTS High Density 48-channel Digital I/O with isolated Inputs and MOSFET Open Drain Outputs
Part Number: 980082
1 to 9
please call or email for price and delivery
10 to 49
please call or email for volume pricing
50 to 99
please call or email for volume pricing
Availability: order now to get on wait list (6-8 weeks typical).
The 980082 is a COTS PC/104 high density digital I/O card.   Please contact us for build options and minimum quantity.
Features and Benefits
Compatibility

Direct drop-in replacement for Octagon Model 2656.
Supply chain headaches? Looking for another source or drop-in replacements?  Contact us and we can help. 

TTL Digital I/O

48-channels
Individual channel direction control
15 mA drive capability
5 volt tolerant

Opto-isolated inputs

4-channels
Range: 4-13 volts

High-Current MOSFET Open Drain Outputs

4-channels
Range: 3 to 40 volts DC
sink 1 amp per channel

Environmental:

Temperature range of -40oC to +85oC

LED status: an LED displays valid card read/write transactions useful for both product development and field status.
Single +5V operation:  approximately 500 milliwatts (inputs/outputs unloaded)
Out-gassing and fire avoidance: we do not use any tantalum or electrolytic capacitors in any products.
Reliability: MTBF of 760,610 hours per MIL-HDBK-217F ground benign at 40oC.
Production:

Designed and Assembled in Wisconsin, USA, utilizing an ISO 9001 manufacturing facility.
Tin mitigated to avoid tin whiskers
Optional: RoHS builds, contact factory

Individual Customer Assistance: We will do whatever we can to assist you in designing in our products.