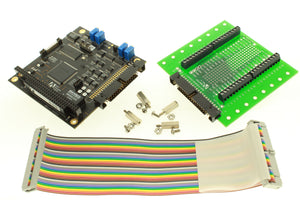 STX104 Quick Starter Kit
Part Number: STX104-DAQ-QUICK-KIT-SPCENG
10 to 49
please call or email for volume pricing
50 to 99
please call or email for volume pricing
Availability: Limited supply, order today or call for quantity
This kit includes:
One STX104 Analog I/O card, P/N: STX104-MFIFO-DAQ
One PC/104 stackable Terminal Breakout Board, P/N: AES40-IDC-RA
One STX104(-ND) 40-Conductor Ribbon Cable 7 inch length, P/N:  CBL40MCR7IN
Two Spacer kits (only one shown in picture), P/N: SELECT IN THE PULL-DOWN ABOVE.
All of our products have these standard features:
Wide operating temperature range of -40oC to +85oC is standard. No up rating, no hassles.
All designs are tantalum free specifically for aerospace applications to avoid potential fire hazards.
All designs are electrolytic free to avoid any out-gassing under vacuum conditions.
LED Status. Great for debug and field service. Life gets easier.
Polarized I/O connectors. No blown systems, no hassles.
Use only franchised distributed parts avoiding counterfeit parts
SWaP-C for rugged aerospace, military and industrial applications  
Product refresh
The STX104 and Tracer hardware was recently refreshed to greatly extend product life cycle. We also added optional 2 mm pin-to-wire connectors to further enhance ruggedness and strain relieving of the I/O connectors.
Having supply chain issues? We can help!
Do you have an existing PC/104 card reaching obsolescence and need to extend its life cycle? Contact us and we can help. In some cases, we can simply update firmware to one of our existing PC/104 COTS modules to provide necessary functionality.